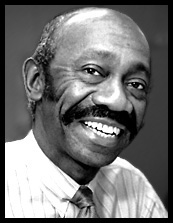 Recognized as one of Indiana University's most prolific and notable faculty members, James P. Holland, Ph.D., came to Indiana University to study zoology and went on to earn his master's and doctoral degrees in endocrinology in 1958 and 1961, respectively. In 1967 Holland earned the rank of associate professor in the IU Department of Biology and thus began his inimitable career as a researcher and decorated faculty member.
During the next 30 years, Holland's commitment to Indiana University was unmatched. He was actively engaged in recruiting and mentoring students, contributed groundbreaking research on the study of thyroid hormones in the reproductive physiology of women, and he served the campus and community on various boards and committees. Holland was also appointed associate dean and interim dean of The Indiana University Graduate School. Awarded the Indiana University Distinguished Service Award in 1994 and named the first recipient of the Chancellor's Medallion in 1997, one of Holland's greatest legacies was his devotion to education. During his tenure at Indiana University, more than 11,000 undergraduate students took courses from Professor Holland.
In addition to his role as an educator, Holland worked tirelessly to address the needs of diverse students on campus. He organized and participated in summer enrichment programs for high school students and summer research programs for college undergraduates. Professor Holland also served as the faculty advisor for the Ernest Just Organization in Biology, an undergraduate club at Indiana University named in honor of the first African American to receive a doctorate in both physiology and zoology. Professor Holland devoted his life to his family, friends, students, and this university until his untimely death on March 24, 1998.